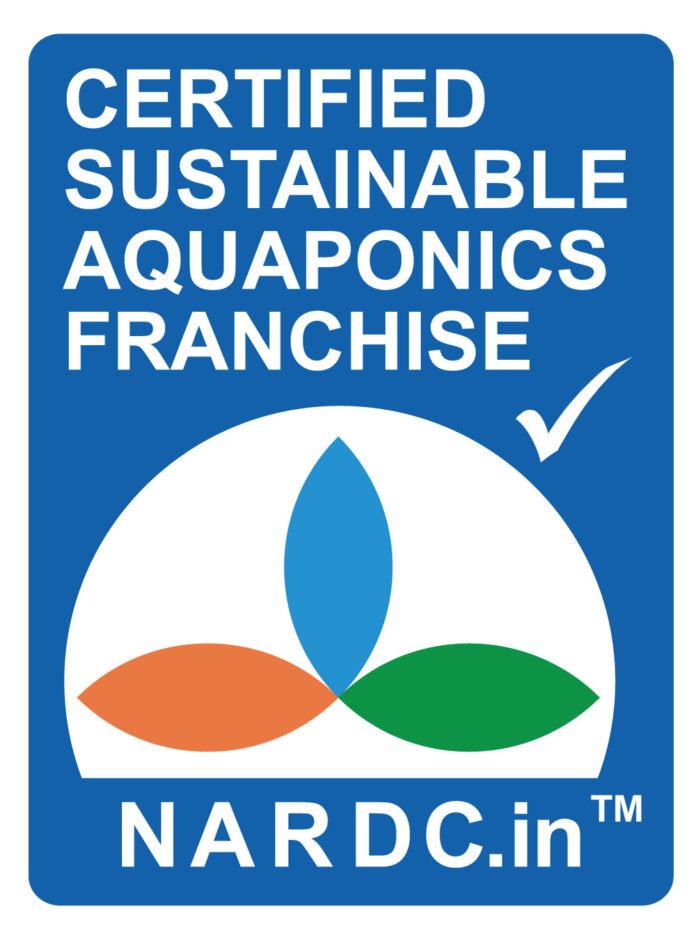 Old saying: "Give a man a fish and he'll eat for a day. Teach a man to fish and he'll eat until the pond dries up." – Attributed to Lao Tzu –
NARDC's focus: "Give the man a kit to do aquaponics and he can feed a village until the sun don't shine."

NARDC is now a private limited company. Working with aquaponics research, development and consulting for over six years, we have learned there is always something new and interesting thing to do. As a social enterprise, we are expanding our existing aquaponics organic farming consulting services, aquaponics integration principles, and aquaponics supplies business models through NARDC's Aquaponics Franchising in 2018.
In case you are interested in starting up an NARDC's Certified Sustainable Aquaponics Franchise unit in your 'district' or your state/country, please write to NARDC with specific questions for more details.
NARDC Certified Sustainable Aquaponics Franchise offers four business formats.
1. Model 1c – EASY aquaponics education, training workshops, sales of hobby-style food production units; 1 m2 through 10 m2 build area.
2. Model 1b – Backyard agriculture, aquaponics integration, owner-operated subsistence farming, domestic-scale food production units; 10 m2 through 250 m2.
3. Model 1a – commercial aquaponics units; 500 m2 through 1 acre (4000 m2) or above to farmer enterprises.
4. Sales of aquaponics organic farming food products and store supplies.
NARDC's Aquaponics Franchise services include but not limited to,
1. Initial registration of one or more franchisees per 'district', a 'state', or a 'country' depending on size of its population, work load and extended services of your franchised territory.
2. Extensive hands-on aquaponics design and technology one-on-one training of various franchise business models at functioning commercial aquaponics sites.
3. Franchise development and extended remote/relevant support during aquaponics project implementations.
4. Continued education programs, certification, and lifetime online mentoring support extended to individual aquaponics farmers through AFFA Online platform (www.affaonline.org)
Investments: No carpet office area or a physical supplies store is required for starters. If you are already running a business or has operational experience, that is just great. There will be a one-time franchise registration fee and legal documents, 3% consulting services fee per square meter build area of commercial projects, and an AFFA Online lifetime membership fee by the farmer adapters.
Profits: The expected profit or ROI for NARDC Aquaponics Franchise depends on various factors like the operation costs, management, staffing and other factors. But however, you can expect ROI of 80% to 200% within 12 months.
We look forward to reading an expression of interest email from you and hopefully meeting you soon to take this discussion further.
Email: nardckerala [at] gmail [dot] com.
To give us a call here is the number, +91 81292 19282